Mohan
According to Rekt Capital, a well-known cryptocurrency analyst, Bitcoin (BTC) is on the brink of a historic moment as it prepares for a significant upward breakout.
Rekt Capital recently shared with his 341,000 Twitter followers that Bitcoin (BTC) has entered April above a significant macro downward resistance trendline. This trendline has been keeping Bitcoin bearish since it reached its all-time high in November 2022.
He also noted that the monthly BTC candle will close soon, and the fact that it has closed above this trendline will confirm a new bull market, signaling a potential major shift in BTC's price trajectory.
Rekt Capital believes that BTC is on the brink of making history, and many of his followers are eagerly anticipating the potential bullish breakout that could follow.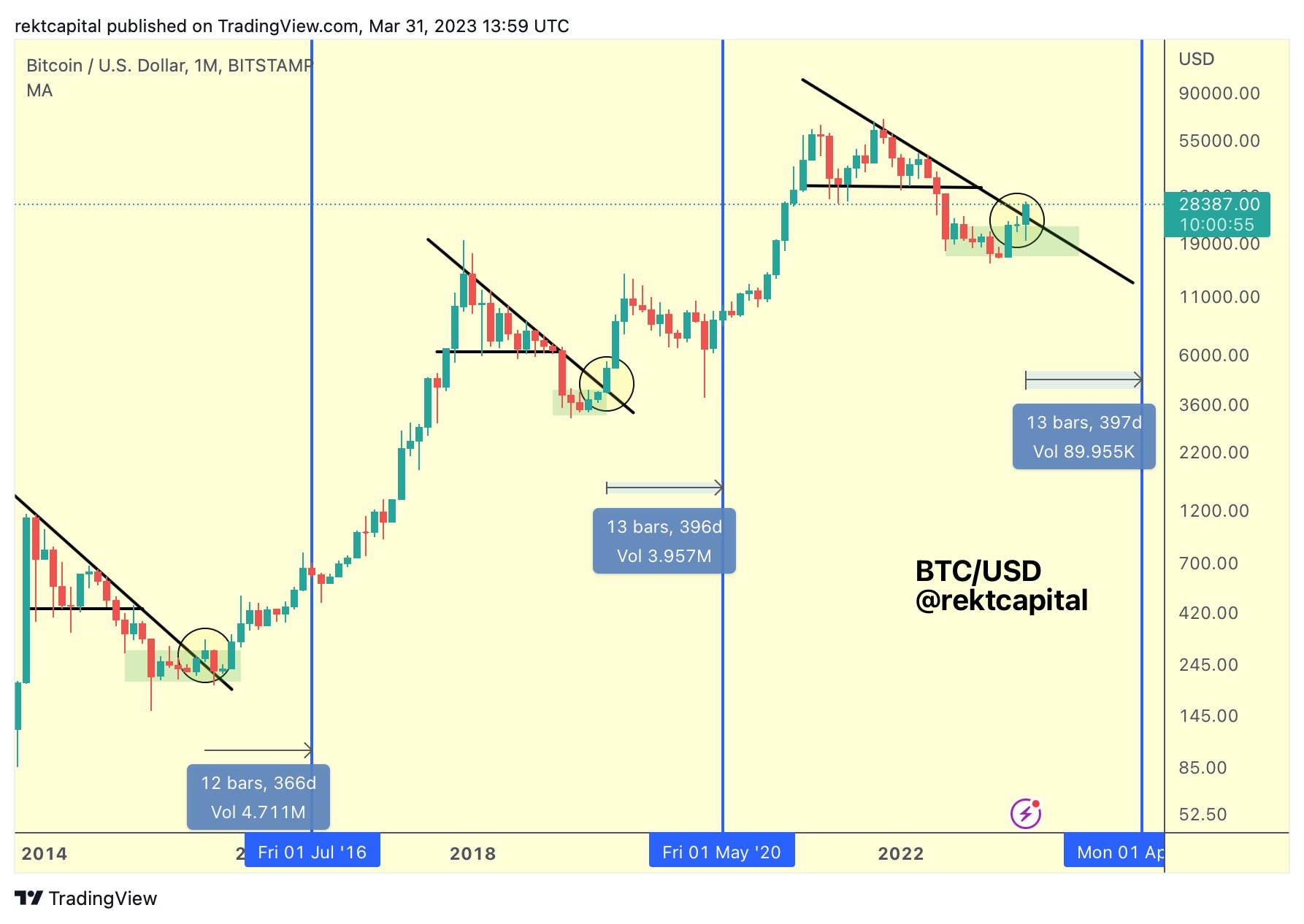 Rekt Capital has also observed that BTC has broken out exactly 396 days before the upcoming Bitcoin halving, which is scheduled for April next year. The halving event involves reducing the amount of newly minted BTC by half.
The analyst points out that in 2019, Bitcoin also broke out exactly 396 days before the 2020 halving event, which could suggest a pattern of behavior for the cryptocurrency leading up to halving events.
Rekt Capital believes that this trend is no different this time around, and Bitcoin is poised for significant upside potential.
Furthermore, Rekt Capital notes that Bitcoin has just closed a quarterly bullish engulfing candle, which is when a green candle fully covers a preceding red candle, both in the opening and closing prices. He says that historically, such candles have preceded several quarters of upside movement, indicating a potential bullish trend for Bitcoin in the coming months.
Sourced from here
Disclaimer: The information provided on this page does not constitute investment advice, financial advice, trading advice, or any other sort of advice and it should not be treated as such. This content is the opinion of a third party and this site does not recommend that any specific cryptocurrency should be bought, sold, or held, or that any crypto investment should be made. The Crypto market is high-risk, with high-risk and unproven projects.
Readers should do their own research and consult a professional financial advisor before making any investment decisions.