Mohan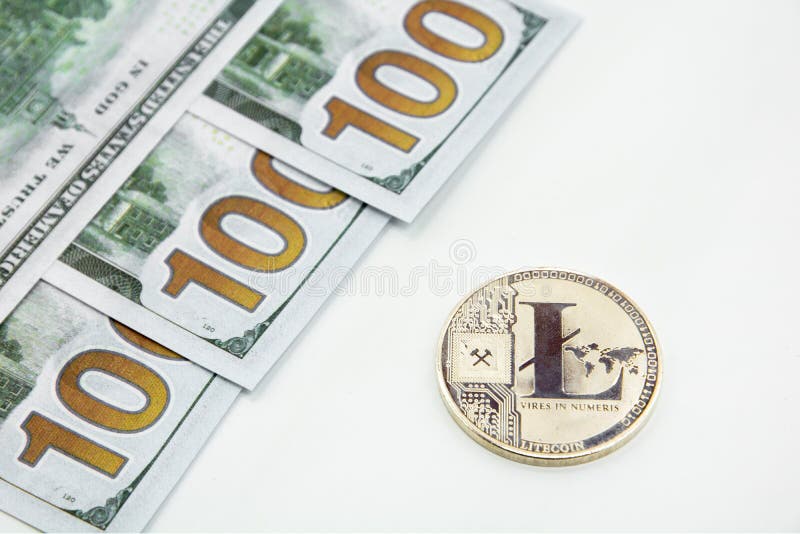 Litecoin (LTC), a fork of Bitcoin's codebase, is known for its fast transaction times, low fees, and overall reliability. As of late, it has been struggling to break above the $100 resistance level, which has proven to be a formidable barrier. However, recent developments suggest that a breakout could be imminent. This article will explore the factors that could contribute to Litecoin's success in breaking the $100 barrier and what it could mean for the cryptocurrency going forward.
LTC has broken above $90 again after the drop to $67 on March 12 raised network-wide bearish concerns. With Litcoin miners stacking their bags again. Is the coast clear for LTC to flip $100?
Litecoin miners entered a sell-off frenzy in late March amid bearish concerns and rising costs. On-chain data reveals that they have replenished their reserves in the past week. Similarly, a cohort of whales has started buying. With LTC now back above $90, how much more do the bulls have in the tank?
Litecoin Miners Are Stacking Up
According to on-chain data compiled by IntoTheBlock, Litecoin miners have added more coins to their reserves following a sell-off frenzy in March. The chart below shows how the miners increased their LTC holdings from 4.37 million to 4.47 million between March 25 and April 3.

Litecoin (LTC) Miners Reserve. April 2023. Source: IntoTheBlock
The additional 100,000 LTC coins the miners have accumulated are worth approximately $9.3 million. When miners accumulate block rewards, it reduces the supply of new coins hitting the market. This can inspire other investors to become bullish about the future price prospects of LTC.
Similarly, on-chain data from Santiment shows that a strategic cohort of Litecoin whales have been in an accumulation frenzy in the past month.
As shown below, the whales holding between 1 million to 10 million LTC have added 890,000 coins worth approximately $82 million to their balances between March 19 and April 4.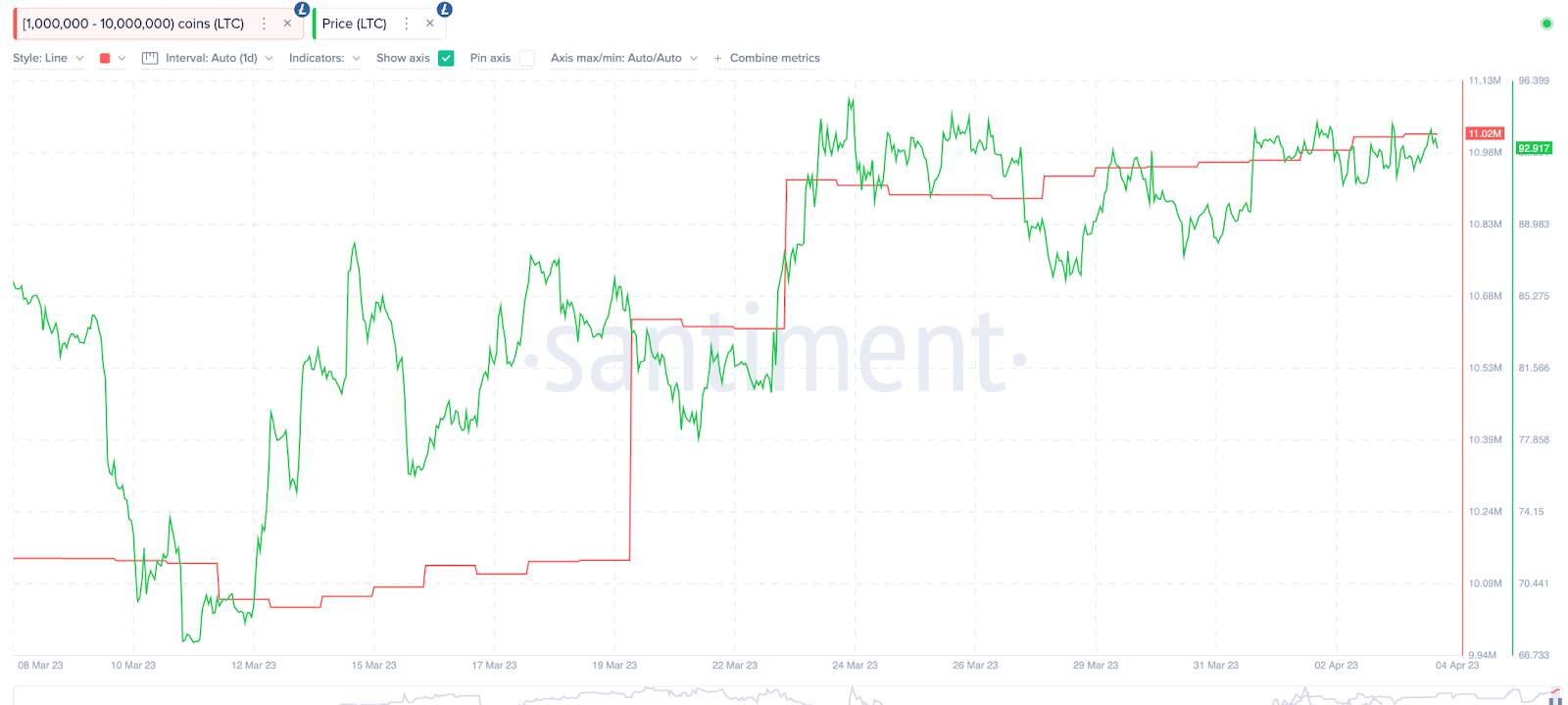 Litecoin (LTC) Whales Accumulation. April 2023. Source: Santiment
An increase in the balances of whale wallets indicates growing interest from institutional investors and high-net-worth individuals.
In summary, considering the buying power they wield, a coordinated accumulation trend among whales and Litecoin miners can trigger a prolonged rally.
LTC Price Prediction: $100 is Within Reach
Going by IntoTheBlock's Global In/Out of the Money Chart, LTC will likely cross the $100 milestone in the coming weeks.
As shown below, LTC faces a minimal resistance of 7,000 addresses holding 34,000 coins around the $96 mark. But if it can scale that zone, it could rally toward $110, where the next significant resistance lies. There, profit-taking from the cluster of 898,000 addresses holding 4.6 million coins could inadvertently derail the rally.

Litecoin (LTC) Global In/Out of the Money chart. April 2023. Source: IntoTheBlock
Yet, the bears can seize the narrative if LTC fails to hold its current support around $88. However, the army of 646 million addresses holding 9.4 million coins here can help shore up the price.
But if that support zone fails to hold, LTC may again drop below $80, the minimum price that another 450,000 had paid for 6.59 million coins.
Disclaimer: The information provided on this page does not constitute investment advice, financial advice, trading advice, or any other sort of advice and it should not be treated as such. This content is the opinion of a third party and this site does not recommend that any specific cryptocurrency should be bought, sold, or held, or that any crypto investment should be made. The Crypto market is high-risk, with high-risk and unproven projects.Readers should do their own research and consult a professional financial advisor before making any investment decisions.